Check it Out!: 2015-2016
Celebrating culture at the Library
Science Literacy Week
Sept 23, 2015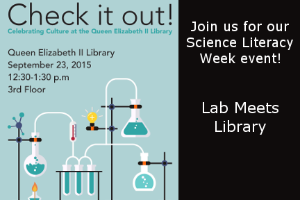 LAB MEETS LIBRARY: See how big a bang we're allowed to make in the QEII Library! Interactive chemistry activities and some surprising science facts for all ages.
Meet some chemists and learn about the cutting-edge chemistry research going on at Memorial.
This is a free event. Everyone is welcome, but children should be accompanied by an adult.
WWI: Dancing on the Home Front
Oct 5, 2015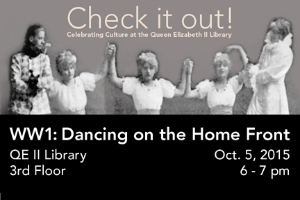 Join Amy Bowring, dance historian with Dance Collection Danse, as she shares her research on the Newfoundland women who used dance, music and recitation to boost home front morale during WWI. Also, David Mercer will provide an insight on Lasting Remembrance: an innovative digital humanities project, that brings together Memorial Libraries diverse collections and resources that highlight Newfoundland's role in the Great War. Finally, Colleen Quigley, Acting Head of Archives and Special Collections, will profile some the hidden archival gems of the performing arts in Newfoundland during WWI.
Winter Words: A Poetry Reading by Anna Swanson and John Barton
Dec 2, 2015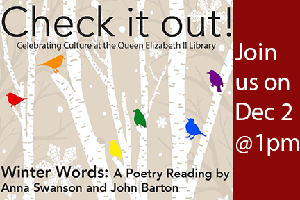 Check it out! is celebrating early winter with a poetry reading by LAMBDA award-winning poet and NLPL librarian Anna Swanson, and Memorial's writer-in-residence John Barton. Both LGBT writers bring their unique voices to warm us as the winter nights grow longer. Swanson, recently shortlisted for the prestigious CBC 2015 Poetry Prize, brings a sensual lyricism to her everyday experience, while John Barton, writer of ten volumes of poetry, and winner of the Archibald Lampman Award, explores the contradictory nature of temporal life. Humanities Collection Development Librarian Amanda Tiller-Hackett will give an overview of MUN Libraries' LGBT collection.