Check it Out!: 2017-2018
Celebrating culture at the Library
Memorial University Libraries would like to acknowledge the support of the Office of Public Engagement and its Accelerator Fund for its 2017-18 event season.
Brave New Worlds: Shakespeare in Newfoundland and Labrador
September 13, 2017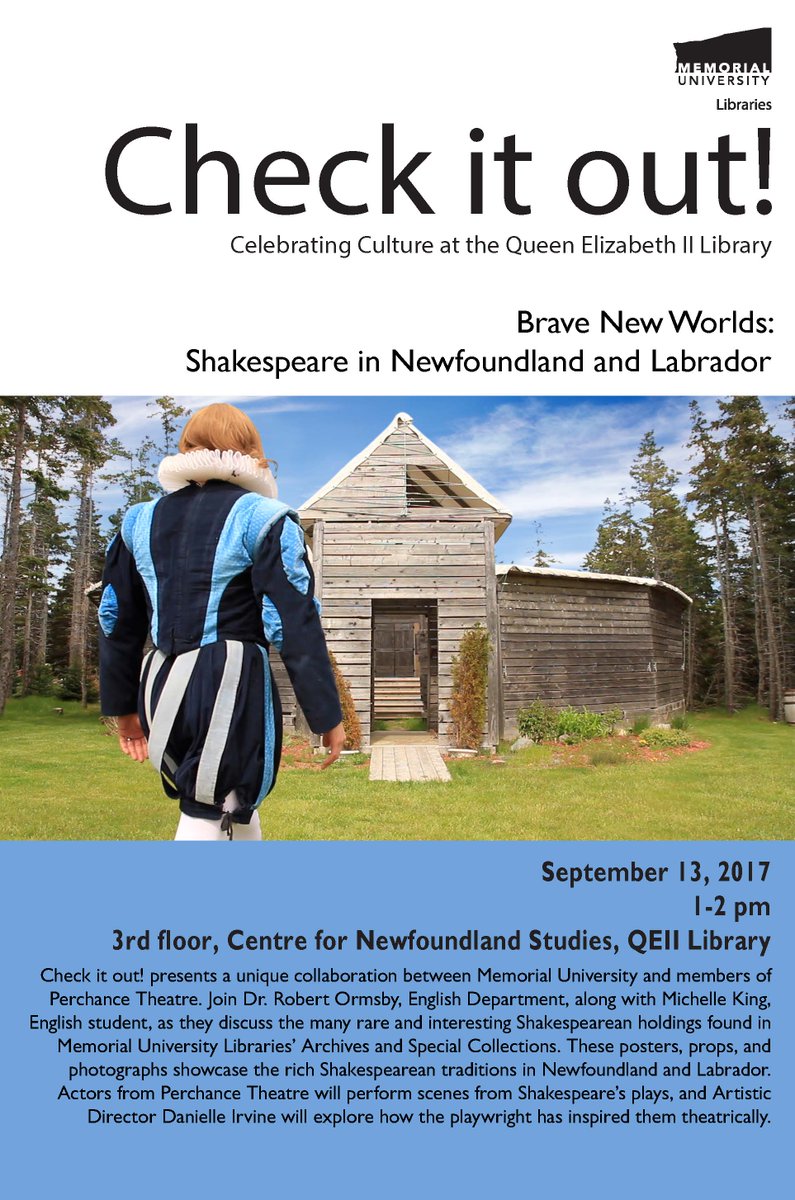 Check it out! presents a unique collaboration between Memorial University and members of Perchance Theatre. Join Dr. Robert Ormsby, English Department, along with Michelle King, English student, as they discuss the many rare and interesting Shakespearean holdings found in Memorial University Libraries' Archives and Special Collections. These posters, props, and photographs showcase the rich Shakespearean traditions in Newfoundland and Labrador. Actors from Perchance Theatre will perform scenes from Shakespeare's plays, and Artistic Director Danielle Irvine will explore how the playwright has inspired them theatrically.
Learn the Facts about Fake News
September 26, 2017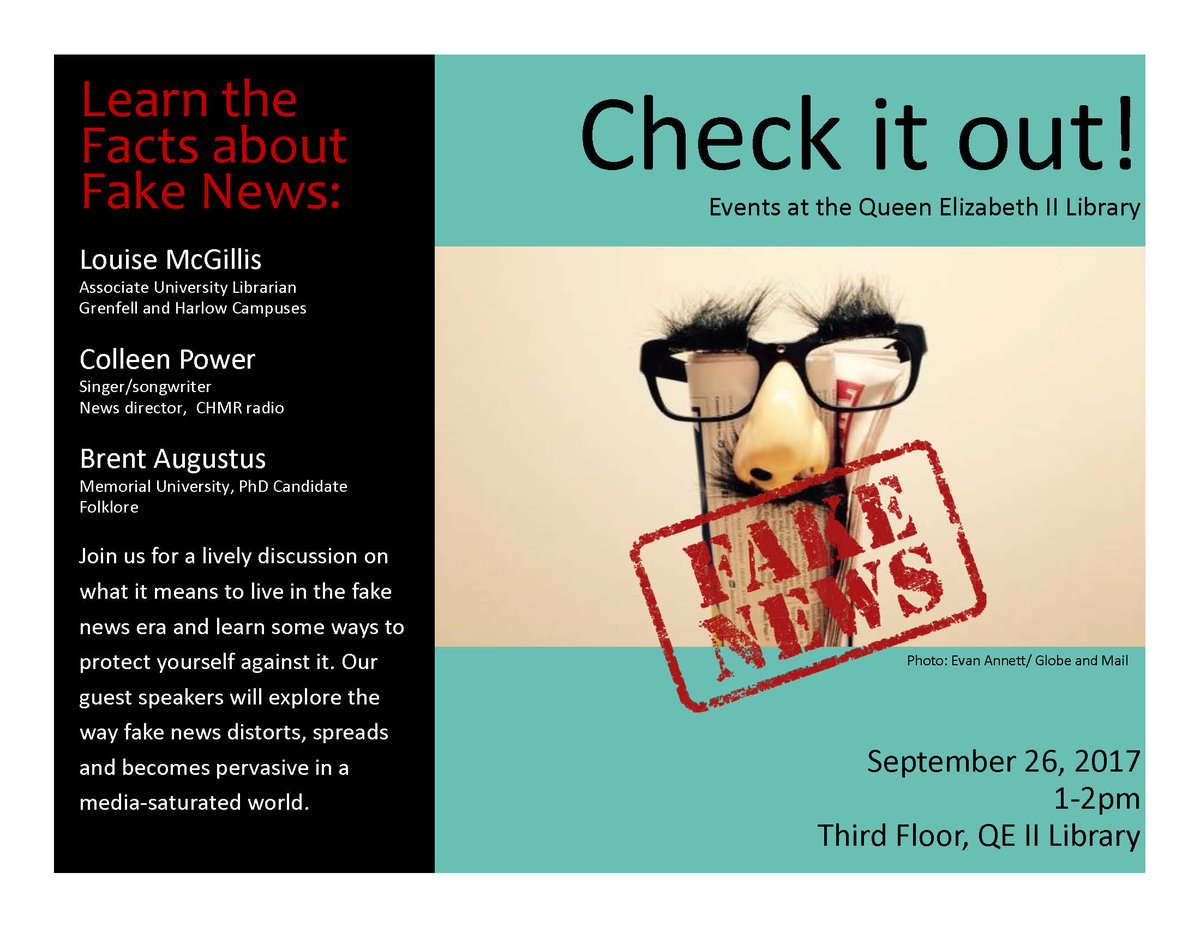 Join us for a lively discussion on what it means to live in the fake news era and learn some ways to protect yourself against it. Our guest speakers (listed below) will explore the way fake news distorts, spreads and becomes pervasive in a media-saturated world:
Louise McGillis - Associate University Librarian, Grenfell and Harlow Campuses
Colleen Power -Singer/songwriter, News director, CHMR radio
Brent Augustus -Memorial University, PhD Candidate, Folklore
The Legend of Job
October 17, 2017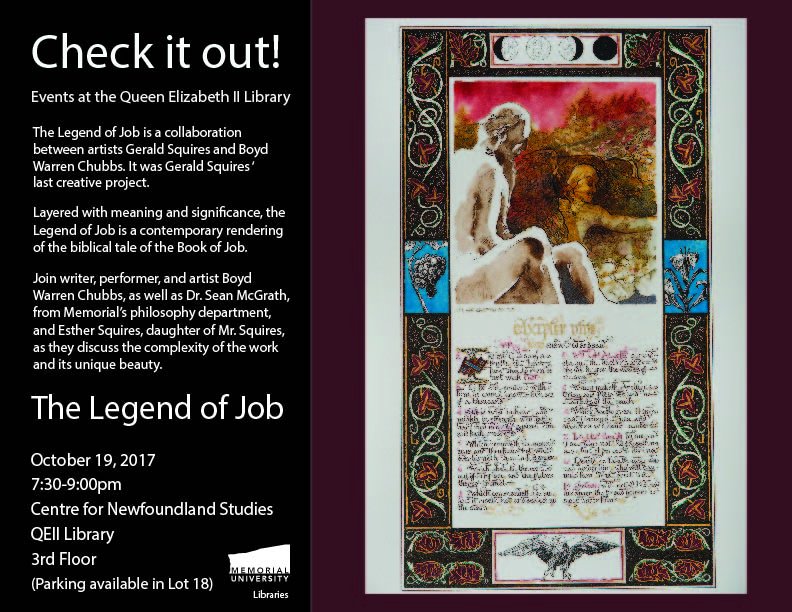 The Legend of Job is a collaboration between artists Gerald Squires and Boyd Warren Chubbs. It was Gerald Squires last creative project.
Layered with meaning and significance, the Legend of Job is a contemporary rendering of the biblical tale of the Book of Job.
Join writer, performer, and artist Boyd Warren Chubbs, as well as Dr. Sean McGrath, from Memorial's philosophy department, and Esther Squires, daughter of Mr. Squires, as they discuss the complexity of the work and its unique beauty.
An Evening about James P. Howley
November 29, 2017
Join us for a night at the Centre for Newfoundland Studies to discover the many layers of James P. Howley (1847-1918) explorer, cartographer, historian.
Speakers;
Joanne Costello - Library Map Room and Visual Artist
Dr. Jeff Webb - History Department, Memorial University
Dan Duda - Library Map room, QEII Library
Don Pelley - Guide and Owner, Twin Lakes Outfitter
How do you deal? Understanding and improving mental health and well-being
February 8, 2017
Check it Out! is pleased to present a discussion about mental health and some experiences, strategies, programs and supports. the event will include a viewing of the powerful documentary Be the Change, about Stella's Circle Inclusion Choir.
Speakers;
Leigha Chiasson-Locke: Regional Librarian for st. John's Public Library
Amelia Curran: Musican and Menatl Health Reform advocate
Jenelle Duval: Program coordinator, St. John's native Friendship Centre
Rob McLennan: Director of employment Services, Stella's Circle
Brad Yetman: MUN Student Wellness and Counselling Centre
Being Female
March 8, 2018
International Women's Day acknowledges and celebrates the social, economic, cultural and political achievements of women. Check it Out! will showcase some wonderful and diverse experiences of Being Female, and we want you to help us celebrate and share in the conversation. Join us in the CNS Reading Room from 1-2pm.
Speakers:
Amanda Bittner, Political science Professor, Memorial University
Alison Farrell, Health Sciences Librarian, Memorial University
Karla Hayward, Social Media Strategist and Co-chair of Status of Women's Council
Monica Walsh, Local Actress/Writer
Looking Back, Looking Forward
May 15, 2018
The Queen Elizabeth II Library is hosting the public lecture, Looking Back, Looking Forward: Building the Marcus French Rodney on Tuesday, May 15. The punt is modelled on a boat originally designed and built by Marcus French of Winterton, Trinity Bay. Panellists will discuss a unique partnership between the Wooden Boat Museum of Newfoundland and Labrador and Memorial's Faculty of Education. The result of the project, a 16-foot, round-bottomed punt, will be on display in the lobby.
Panelists:
Jerome Canning, Master Boat Builder
Jim Dempsey, President, Wooden Boat Museum of N.L
Dr. David Gill, Professor, Faculty of Education
Catherine Lawton, Head of Public Services, Dr. C.R. Barrett Library
Don Wright Scholarship Exhibition
September 17, 2018
Join interim director of St. Michael's Printshop Eric Ehuler, show curator April White, and First Space Gallery coordinator Joanne Costello in a Check it Out! panel discussion about the Don Wright Scholarship, as well as the history and significance of the St. Michael's Printshop to the national and international printmaking scene.
St. Michael's Printshop vice-chair Hannah Morgan will be moderating the discussion
Reframing Disability: The Perspective From Artists in the Performing Arts
October 2, 2018
Panel Facilitator, Emily Christy, is a social change agent, researcher and a strong believer that lived-experience needs to be front and centre in advancing human rights. As the Executive Director of The Coalition of Persons with Disabilities NL since 2016, her work has been focused on bridging connections—through partnership and stakeholder engagement—with community, business and government in advancing the rights of persons with disabilities in our province.
Panelists:
Luca "LazyLegz" Patuelli, Ill-Abilities Crew Founder BBoy
Paul Power, Power Productions Artistic director
Erin Ball, Kingston Circus Arts Aerialist
Watch the Video